Bob's Personal Photo Album
Candace Lively & "The Gas Guy"

Bob van der Valk with Candace Lively of Tennessee who is one of the featured singers and dancers in the play being dedicated to Teddy Roosevelt.
The play is presentd nightly throughout the summer at the Burning Hills Amphitheater in Medora, North Dakota.
Candace Lively & "The Gas Guy"
| | |
| --- | --- |
| Bob took time to console the USC Cheerleaders after their bitter loss to UCLA at the Rose Bowl on December 2, 2006. The good news is that they will see him again at the Rose Bowl game on January 1st! | Bob with the UCLA cheerleaders savoring their upset victory over USC at the football game played in the Rose Bowl on December 2, 2006. |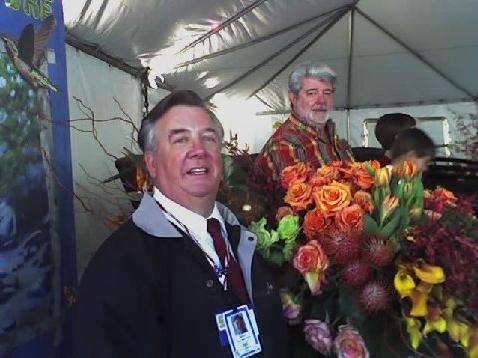 The 2007 Rose Parade. George Lucas is relishing his grand marshal status on the day before the Rose Parade. He gets to ride in a rare 1911 Pope-Hartford Model Y car and flip the coin before the Rose Bowl match up between Michigan and the University of Southern California, his alma mater. Next to the car is Bob van der Valk, who will be his security escort in the Rose Parade. He is giving George Lucas last minute instructions about waving to the crowds and riding in the beautifully flower decorated automobile donated for use in the parade by the Nethercutt collection of vintage automobiles.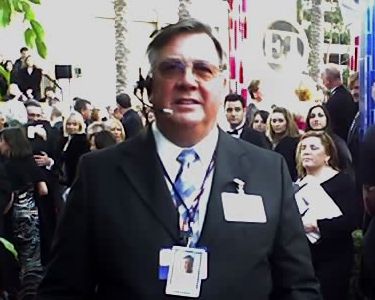 BOB AS SECURITY SUPERVISOR OF THE RED CARPET AT THE SCREEN ACTORS GUILD AWARDS SHOW HELD AT THE SCHRINE AUDITORIUM ON JANUARY 28, 2007
Other "Gas Guy" Radio, TV & Live Appearances are occasionally captured digitally. Some of them appear below.
| | |
| --- | --- |
| Sunday, 11.28.04 ~ KTLA Channel 5 ~ "The Gas Guy" on Pacesetters Show w/ Ray Gonzales. | Saturday, 01.01.05 ~ Rose Parade Grand Marshal Security Service ~ "The Gas Guy" was the security escort for Mickey Mouse, who was the Grand Marshal in the Rose Parade on New Year's day. Luckily for them the rains let up just in time to keep spectators and participants dry, smiling and amazed as ever at the over 100 floral floats, marching bands and equestrian units comprising this year's granddaddy of all parades. |
| | |
| --- | --- |
| "Mickey Mouse" with "The Gas Guy" handling security by covering his back. | "The Gas Guy" w/Grandson Ryan Miller |
"The Gas Guy" appears in segments of live and pre-recorded interviews aired by radio and TV stations; is quoted again and again by media, government employees, academics and industry participants in articles written, research studies published and so forth. For a sampling of articles published in which these quotes appear, go to our NEW STUFF page where an entire section is devoted to this subject since the price at the pump is a very newsworthy "hot topic" nearly all the time these days.